Parade
Original Broadway Cast Recording


Pictures from the RECORDING SESSION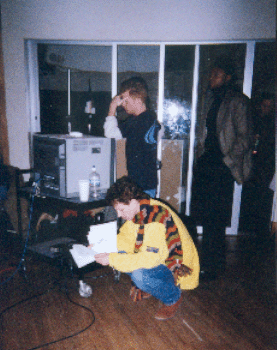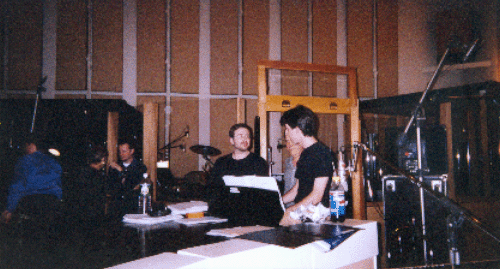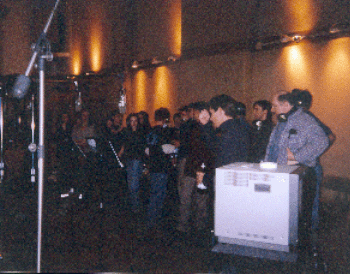 ALBUM SALES
The cast recording made quite an impression in its first few weeks. The critics have been raving about it, and it has even won over many people who didn't care for the show itself. And the sales statistics are pretty impressive as well . . .
From the Tuesday that it was released to the following Sunday, 1480 copies were sold at major record stores across the country!
Sales in New York City have been spectacular, with the album easily making the top ten best seller lists at several major retailers (HMV, Tower).
I was told by a couple people that it was sold out at Virgin Megastore for a period of time on the day of its release.

I know some of you outside of NYC have been unable to locate the album. If you're out in the middle of nowhere and can't find it, click here to order the recording from Amazon.com.

THE ALBUM RELEASE PARTY
For those of you who didn't go (I think that would be most of you), the show's composer, Jason Robert Brown, a number of cast members, and several of the wonderful people responsible for the album showed up at Virgin Megastore the night of the album's release for what was dubbed "Midnight Madness." We all waited around and talked till the magic hour, then stormed the cashier's counter to buy our copies (which JRB was kind enough to autograph, in what was probably one of Virgin's most disorganized signings ever). Most everybody hung around till about 1:00am, listening to the album over the sound system and visiting.

Take a look at the Track Listing and Commentary
for the cast album.



REVIEWS
RainbowNetwork.com CD review
Atlanta Journal-Constitution review
Houston Chronicle review
Album review from Show Music Magazine
Joshua Rosenblum's review from Opera News
Joseph Molnar's Parade album review from his Sound Advice column on TalkinBroadway
Steven Suskin's review from Playbill On-line.
Andrew Gans' review of the album.
Read Ken Mandelbaum's review of the cast album.
Order the original cast album!



Back to The Old Red Hills of HOME
In Association with Amazon.com