The Show
Opened: December 17, 1998
Closed: February 28, 1999
Played at: The Vivian Beaumont at Lincoln Center


For an excellent SYNOPSIS of Parade, visit Stacey's site, All the Wasted Time.
For an extraordinarily detailed one, take a look at Tesse's site, This Is Not Over Yet.

THE STORY

Parade is the true story of Leo Frank, a Jewish man who was wrongly convicted of the murder of 13-year old Mary Phagan. The musical covers not only the trial, but also dramatizes the love story between Leo and his wife Lucille. The show is basically an historical retelling of the story, but it also subtley examines class and race relations, prejudice, and the South.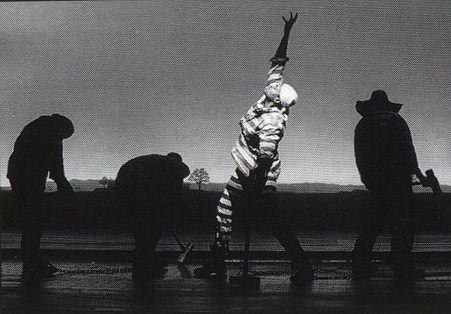 MUSICAL NUMBERS
ACT ONE

Prologue: "The Old Red Hills of Home" . . . . Young Soldier, Old Soldier, Ensemble
Anthem: "The Dream of Atlanta" . . . . . . . . . Ensemble
"How Can I Call This Home?" . . . . . . . . . . . Leo Frank, Ensemble
"The Picture Show" . . . . . . . . . . . . . . . . . . . . Frankie Epps, Mary Phagan
"Leo at Work/What Am I Waiting For?" . . . Leo Frank, Lucille Frank
Interrogation: "I am trying to remember..." . . Newt Lee, Mrs. Phagan
"Big News!" . . . . . . . . . . . . . . . . . . . . . . . . . . Britt Craig
"There is a Fountain/It Don't Make Sense . . Frankie Epps, Ensemble
(incorporating "There is a Fountain," traditional hymn by
William Cowper, melody by Lowell Mason, 1772)
"Watson's Lullaby" . . . . . . . . . . . . . . . . . . . . Tom Watson
"Somethin' Ain't Right" . . . . . . . . . . . . . . . . . Hugh Dorsey
"Real Big News" . . . . . . . . . . . . . . . . . . . Britt Craig, Reporters, Ensemble
"You Don't Know This Man" . . . . . . . . . . Lucille Frank
"The Trial (Finale Act I):
Pt. I: "It Is Time Now" . . . . . . . . . . . . . . Fiddlin' John, Tom Watson, Ensemble
Pt. II: "Twenty Miles From Marietta" . . . . Hugh Dorsey
Pt. III: Frankie's Testimony . . . . . . . . . . . Frankie Epps, Mary Phagan, Watson
Pt. IV: "The Factory Girls/
Come Up to My Office . . . . . . . . Iola, Essie, Monteen, Leo Frank
Pt. V: Newt Lee's Testimony . . . . . . . . . . Newt Lee, Ensemble
Pt. VI: "My Child Will Forgive Me" . . . . . Mrs. Phagan
Pt. VII: "That's What He Said" . . . . . . . . Jim Conley, Ensemble
Pt. VIII: Leo's Statement:
"It's hard to speak my heart" . . . Leo Frank
Pt. IX: Closing Statements & Verdict . . . . Ensemble

ACT TWO

"It Goes On and On" . . . . . . . . . . . . . . . . Britt Craig
"A Rumblin' and a Rollin'". . . . . . . . . . . . . Riley, Angela, Newt Lee, Jim Conley
"Do It Alone" . . . . . . . . . . . . . . . . . . . . . Lucille Frank
"Pretty Music" . . . . . . . . . . . . . . . . . . . . Governor Slaton
"Letter to the Governor" . . . . . . . . . . . . . Judge Roan
"This Is Not Over Yet" . . . . . . . . . . . . . . Leo Frank, Lucille Frank
Blues: "Feel the Rain Fall" . . . . . . . . . . . . Jim Conley, Ensemble
"Where Will You Stand When the
Flood Comes?" . . . . . . . . . . . . . . . . . Tom Watson, Hugh Dorsey, Ensemble
"All the Wasted Time" . . . . . . . . . . . . . . . Leo Frank, Lucille Frank
"Finale" . . . . . . . . . . . . . . . . . . . . . . . . . Ensemble


Back to The Old Red Hills of HOME