News and Rumors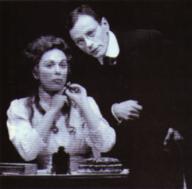 The Tour
The Parade tour kicked off in Atlanta on June 13, 2000. The schedule was as follows:
Atlanta, GA Theatre of the Stars, The Fox Theater June 13-19
Memphis, TN The Orpheum Theatre June 20-25
Dallas, TX Dallas Summer Musicals, The Music Hall June 27-July 9
Pittsburgh, PA Pittsburgh Civil Light Opera Aug. 15-20
Green Bay, WI The Weidner Center for the Performing Arts Aug. 22-27
Denver, CO Denver Center Attractions, Buell Theatre Sept. 12-24
Seattle, WA Fifth Avenue Playhouse Sept. 26-Oct. 15
Cleveland, OH Palace Theater Oct. 17-29
The Tour officially ended in Cleveland on October 29, 2000.
For more tour information, including cast and production info,
visit The Tour page.


Other Performances
Plans for another tour of Parade or a return to Broadway are not currently in the works. However, the rights will soon be available, so be on the lookout for regional theatre productions.


The Libretto
Show Music Magazine will be publishing the entire libretto (along with some new interviews and pictures) in an upcoming issue. For more information, visit their website.
And you can also get *excerpts* of the libretto right now if you get the latest edition of the Burns Mantle Theatre Yearbook: The Best Plays of 1998-1999 .


The Sheet Music
The vocal selections, published by Hal Leonard, were released on February 10th.
Hal Leonard also published a book of selections from Audra McDonald's Way Back to Paradise album -- "You Don't Know This Man" is be among them.
The Singer's Musical Theatre Anthology Volume 3
was just published and includes some songs from Parade:
"This Is Not Over Yet," "Old Red Hills of Home" (Tenor)
"You Don't Know This Man," "My Child Will Forgive Me (Mezzo-soprano/Alto)
"It's Hard to Speak My Heart" (Baritone/Bass)


The Rights
All rights will be licensed through Music Theatre International.





Back to The Old Red Hills of HOME