Tuesday, February 01, 2000

Brown's promise is on
parade again

Robert Cushman
National Post

SONGS FOR A NEW WORLD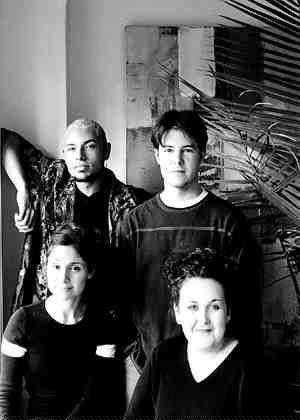 The Church at
Berkeley, 315
Queen St. E.,
Toronto
One of the merits of Parade, the short-lived New York show that was
Livent's last book musical, was that it gave a platform to a new young
composer-lyricist, Jason Robert Brown. Brown was known previously
only for an even shorter-lived but well-noted off-Broadway piece, Songs
for a New World.
A talented and enterprising new company called Color
and Light gave it a 10-day showing in Toronto; it closed
on Saturday but should be brought back. It was a
promising work when new; there is now the added
interest that its promise has been fulfilled.
Brown's writing was to take a great step forward in
Parade, partly because that musical's fable of injustice in
the Deep South gave him a solid narrative springboard. In
Songs from a New World he has to create story,
characters and social setting all by himself; and to do it
afresh, 16 times over. The show is one of those staged
song-cycles in which previously unperformed composers
show off their existing wares and try to impose a theme on
them.
The masters of this form are the team of Richard Maltby
Jr. and David Shire, whose anthology-revues are major
influences here. (Their best-known show, Starting Here
Starting Now, actually includes a song called New World
Coming.) The predominant tone of the genre is optimistic
urban angst; characters bitch and kvetch and fall very
self-consciously in and out of love, but they do so to
bracing musical rhythms that at least suggest that life
might be worth living, and at the end of the evening they
come right out in a soaring chorale and admit it.
Brown's lyrics don't have the observant wit of Maltby's,
and his music doesn't surge like the best of Shire, but he
upholds that wryly intense Manhattan perspective. When
a character sings, I'm Not Afraid of Anything you know
that she is terrified of everything.
I suppose that musicals have always gone in for uplift, but
once upon a time, when audiences were told to lift up
their heads and shout because there was going to be a
great day, people took the pronouncement for granted. It
was just one of those things; anything went.
In recent decades solemnity has skyrocketed, even -- or
especially -- in romantic songs. Love has become less an
emotion than a cause. Rock, folk and country -- all simple,
didactic forms -- have had their effect on the younger
composers, and Brown certainly bears the marks. His
best single number here is The River Won't Flow, a sort of
anti-gospel song: a rant against failure that's more
invigorating than most odes to success.
The new world he contemplates seems at times to be a
brave psychic landscape that we might all inhabit if we
thought positively; at other more sobering moments it's the
actual United States. We start with a song about
Columbus, desperately praying; and even after we've
plunged into the present we're liable to return to the War
of Independence, where a potential battle widow is
desperately sewing flags.
Though I had enjoyed some of the songs on CD, I was
unprepared for how well they worked in the theatre. There
is movement here both within and between the
characters, and Tim Fort's staging brought it subtly but
forcefully home. Dancing was minimal but neat, singing
excellent, vocal harmonies especially rich as, in this kind
of small-band show, they need to be. The cast boasted
one of the best actress-singers in Canada in Tracy
Michailidis, a performer with genuine poise and presence
of whom I certainly want to see more. She both began and
ended the show by making a grave entrance carrying a
presumably symbolic lantern, and it seemed fitting that
she was the only one in the cast who got to hold a candle.
Sharron Matthews specialized in songs about
materialistic ladies who come to bad ends. She stops the
show with Surabaya Santa, Mrs. Claus bewailing her
left-alone lot after the style of Brecht and Weill; the lyric
isn't as witty as it should be but the idea and the
performance carried it.
The men, Thom Allison and Jason Knight, were less
distinctive, though Allison mustered a tingling falsetto. A
final word for Brown's rhymes, which are unshowily good,
and nail his points down. Here at least he's a
traditionalist, and in the best way.