JASON ROBERT BROWN
The Songwriter

Listen to the song that I sing . . .
"I was 20 years old when I got to New York City, and I was determined to write my big Broadway musical. The only problem was that I didn't really know anybody in New York other than the delivery guy from the Chinese restaurant, and I didn't think he would be such a great collaborator, since he couldn't even give me the right change. So I decided I would just take a bunch of songs I had written for various abandoned pieces and put them up at a cabaret, and I could find collaborators from there. But some things take on a life of their own, and I couldn't stop working on this material."


Jason Robert Brown was introduced to Daisy Prince while working at a piano bar, and subsequently the two decided to turn several of his songs into a revue which Daisy would direct. (It was during this time that Jason was introduced to Daisy's father, the legendary producer and director, Harold Prince, who would later ask him to write the score for his new musical Parade.) Then they started working on it. And working. And working.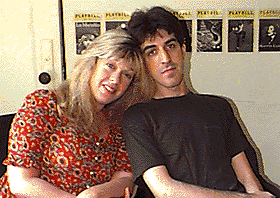 "Now, as far as we were concerned, Songs for a New World was still just going to be a collection of my cabaret and theatre songs, a way to introduce my writing to the world. But the show had become more than that -- it was starting to take a a strange new shape, and Daisy and I were powerless to control it: somehow, songs that had always been perfect on their own seemed awkward in context; songs that had been written years and miles apart seemed to make sense together; words and melodies that came from different times and places all seemed to add up to one statement."
After years of working on the project, Songs for a New World finally opened at the WPA Theatre in 1995. With the release of the cast album, Jason Robert Brown was soon being hailed as one of the most talented new writers of the theatre.
"I realize that not every composer gets ot have his first show in New York to be such a magical experience, and I know how lucky I am. What I also know is how little of the entire experience I actually had any control over; some things take on a life of their own, and if you're smart, you just trust in the moment, hold your breath, and sail away."
--Jason Robert Brown