Arts Saturday: Singers for a new world
05/27/2000

By Lawson Taitte / The Dallas Morning News


PLANO - You won't find four singers who can warble more tunefully than the
cast of Plano Repertory Theatre's Songs for a New World. That's an
especially good thing in the case of Jason Robert Brown's 1995 revue,
receiving its area premiere. The writer-composer (winner of last year's Tony
Award for Parade, which the Dallas Summer Musicals is bringing to town in
June) put together material he wrote for a variety of unproduced early
projects. All they require is outstanding voices and the ability to sell a
song. Jennifer Freeman, Christopher J. Hanke, Donald Fowler and Amy
Stevenson have already had great seasons in theaters all over town. This
offering, though, is the brightest showcase for each yet.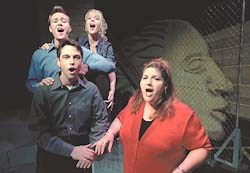 "Songs for a New World is catching the people in it - and this theater - at
a unique time. The theater, and each of us performers in the show, are at a
point when we are all about to go to a different level. Plano Rep was brave
to attack this show because you don't often have a chance to do something
like this. It has substance. It's sophisticated." Donald Fowler
"This part is really a challenge for me vocally because I've never sung in
this high vocal range before. I'm playing a role that should be done by
someone a bit older than me, and it's tough. But I'm hooked on the theater.
I deferred medical school admission for two years after graduation from
Baylor University. They called me last week and I told them I wasn't coming.
I thought I should say that I was 'making $65 every two weeks at Plano Rep -
what do I need medical school for?' " Christopher J. Hanke
"Every actor in town wanted to do this show. It has different styles that
appeal to everybody. People can just watch it as an energetic show, or they
can get more cerebral. The funny songs come easy for me just because I've
grown up being that person. But a song about war, like the one in which I
sew the first American flag, comes harder. I don't play angry well."
Amy Stevenson
"When I came to Southern Methodist University for graduate school two years
ago, I had just done school shows, never professional. My ambition was to
become a contemporary Christian artist. But I've done a lot of roles all
over since. You can definitely get opportunities to perform in Dallas -
though you may not make a lot of money at it." Jennifer Freeman